Hot topic! When you invest in a dog you also open yourself up to certain messes and waste that you would have otherwise avoided. Something to keep in mind throughout this article is that I live in an apartment building, so I don't have the option of letting a puppy go in the yard and not come back.
I've broken this down (in this order) into the dog themself, food, poop bags, toys, beds, and more! If there's a specific section you're interested in, I've given them BIG headers so you can just scroll on down.
Choosing A Dog with the Planet in Mind
PLEASE adopt a dog, rather than getting a store-bought purebred puppy. Rescues are otherwise euthanized in the shelters and never find a good home, and most store-bought dogs come from puppy mills. I'm not an animal activist, but getting a dog that needs a home as opposed to getting one bred for me feels a whole lot better than knowing I funded a puppy mill.
How to Choose Eco-Friendly Dog Food
Although my personal opinion is that all humans should reduce their meat intake in order to save the planet, I don't think it's responsible to make your dog a vegan unless they medically need to be. Dogs are descendants of wolves, and I don't know about you but there aren't many wolves I know of that forage for carrots. If you want to read more about feeding dogs a vegan diet, this article is written by the experts.
So, what do I feed her? I feed her a chicken-based kibble. It has chicken, blueberry, oat, flax, and spinach. I chose a chicken-based diet since she's not allergic, and it has the lowest impact of the meats typically found in dog food. Apparently dog food equates to around 20% of the meat consumption in the U.S.! See this graphic from the BBC on the various carbon footprints of meat.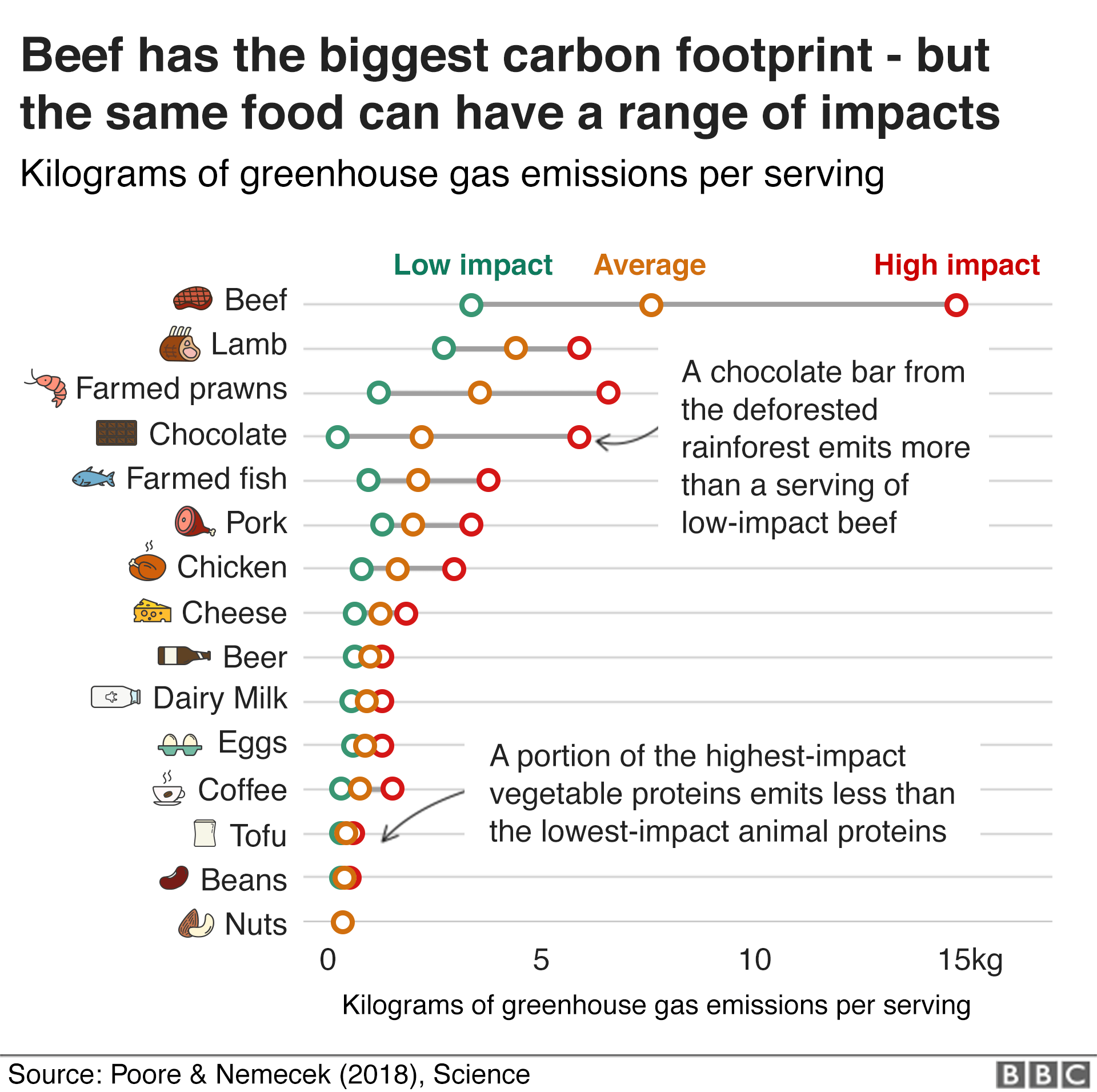 You can also make your dog more eco-friendly on-the-go. You can designate one of your reusable silicone snack bags for dog food or treats. You can make your own treats from leftover food, too! I'll share it here and on my Pinterest when I try it for the first time.
Eco-Friendly Dog Waste Disposal
Although poop does break down on its own, the parasites and bacteria contained within the poop don't go away, and pollutes the water stream when it rains.
Since I live in an apartment complex, I can't do some of the more eco-friendly options such as flushing the waste, since I'm not going to bring a shovel full of sh*t upstairs. I get bags from PoopBags or EarthRated, since they're both biodegradable or compostable. I've linked both so you can read more and make a decision! Either way, the most important thing you can do is to pick up after your dog and properly dispose of it.
Do think twice about a compost option, though, and make sure that wherever you want to drop it off accepts pet waste (in bags). This quote from Rhode Island stormwater solutions explains why: "For dog, cats, and other pets that are meat eaters, it's important to dispose of the waste in the garbage. Wastes from meat eaters should not be placed in a compost pile because the parasites, bacteria, and viruses are not readily destroyed during the composting process and can be passed on to humans.
Sustainable Dog Toys
As a bonus add on to this weekend's blog, partially because I skipped last weekend and partially because I was feeling productive, I wrote out instructions on how you can use old clothes and turn them into toys for your dog! Read that here.
We don't only do this, though. We have bought, and continue to buy, new toys for her. Some of the sustainable options to get dog toys are:
Only buy old toys. If you have a toy destroyer like I do, buy your toys from thrift stores and let your dogs go at it without feeling quite so bad.
Swap toys with a friend! If you have a smart pup who gets bored of the same toys over and over again, trade them with your friends so that your dog gets something "new" once in a while.
Buy warrantee-d toys from companies who care. We love our toys from West Paw, since they come with a 90-day warrantee which means they trust the quality of their products, they're made from environmentally conscious materials in the U.S.A., and they've won several awards for their sustainability efforts. You can read more about their sustainable dog toys on their website! Phoebe has yet to destroy either of her West Paw toys, so we just ordered a few more.
Other Eco-Friendly Dog Resources
First of all, DM me any dog-related questions on Instagram, I'm always happy to respond!
Some other dog owners who've written great blogs on puppies and their care: